Electronic Giving to Covenant
Coronavirus Giving, or...
How can I keep up with my giving in spite of COVID-19?
Dear friends, our work as a church doesn't stop, and neither do our expenses, even though we have been forced to close the building. That's why we provide several options for online and electronic giving, so you can keep up with your financial pledge despite the emergency!
It's Easy, And It's Here!
Click here to enter our secure online giving portal. It's easy to to give online, using your credit card or deductions from your checking account.
How To
Click here for a simple "How To..." document for Covenant's online/electronic giving. More documentation is coming soon!
Text Giving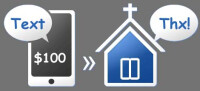 Now you can use your smart phone or other device to text a gift to Covenant. It's easy and it's secure. To send a gift via text, just send a text message to 7177691063 with the dollar amount (e.g. "$20"). The first time you do this you will be asked to fill out a short form with billing information. After the initial setup, giving is as easy as sending a text message. Please contact the church office if you have any questions!
What's Up
Online and electronic giving are now available! Covenant Church welcomes your financial support for our many ministries, and we're doing our best to make it easier than ever to make your donations online. You have several new ways to support Covenant, including:
Online giving with credit or debit card, using our church website. You can even donate to specific funds, projects or ministries!
Automatic Bank Payments for planned, recurring donations (ACH)
Text giving, using your smartphone.
We even plan to set up a giving "kiosk" so you can make your online donations at the church!
All online and other electronic gifts will be automatically credited to your account, and will be included in your annual donation report for tax purposes.
Meanwhile, we'll continue to graciously accept your tithes, gifts and offerings during Sunday worship, or contact the church office directly.